South London's premier gay socialist folk band (probably) teams up with a C17th rebel to share the history of English protest and dissent. Come and find out what Gerrard Winstanley makes of England today…Expect a song, a dance and maybe the start of the revolution!
#mobileincitement
Thanks to all who came to our Brixton City Festival shows at Ovalhouse and at the Festivals Hub in Brixton. If you didn't manage to give us any feedback, please use this very short survey to do so.
We're now focused on the next stage of the project, which will involve a residency at Queen Mary University of London to develop our participation programme with Tower Hamlets Residents, and some more performances.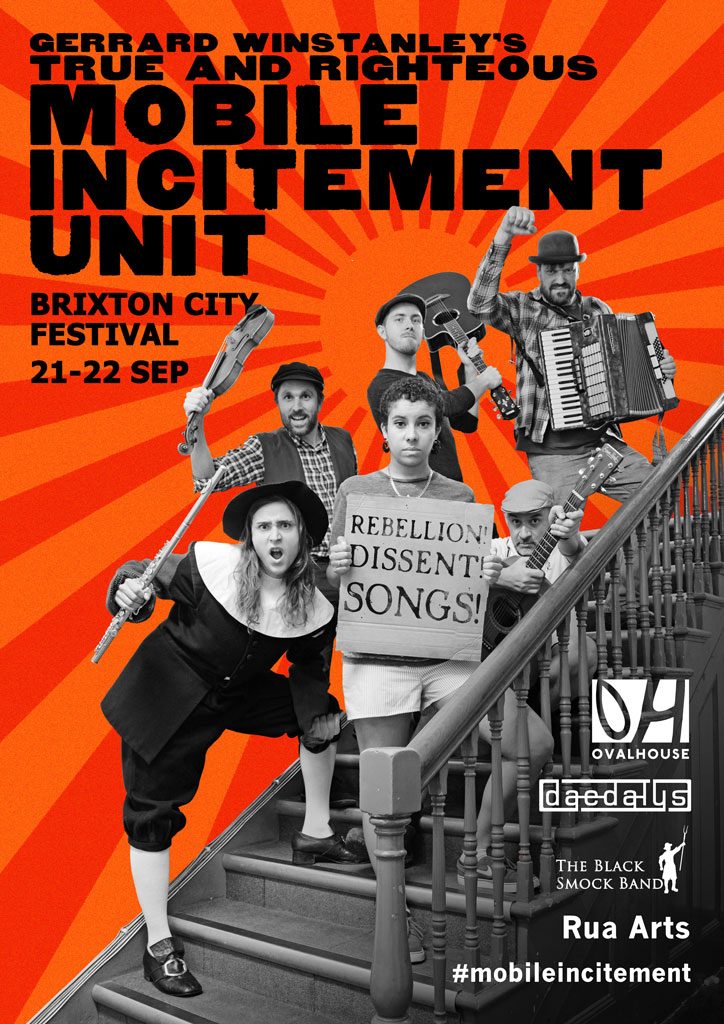 Performed and devised by by the Black Smock Band (Andy Bannister, Matt Beattie, Paul Burgess & Dan Cox), Sarah Jeanpierre & Rhiannon Kelly using historical texts and songs, original songs from the band and new writing from Alex Swift.
Directed by Paul Burgess
Mobile Incitement Unit designed by Andy Bannister
Project Management by Maeve O'Neill
Produced by Daedalus Theatre Company & Rua Arts
Commissioned by Ovalhouse
Supported by Queen Mary University & Design Trail Brixton
For more information and to book a performance at your venue please contact us.
SaveSave
SaveSaveSaveSaveSaveSaveSaveSaveSaveSaveSaveSaveSaveSaveSaveSaveSaveSaveSaveSaveSaveSaveSaveSaveSaveSaveSaveSaveSaveSaveSaveSaveSaveSaveSaveSaveSaveSaveSaveSaveSaveSaveSaveSaveSaveSaveSaveSaveSaveSaveSaveSaveSaveSaveSaveSaveSaveSaveSaveSaveSaveSaveSaveSaveSaveSaveSaveSaveSaveSaveSaveSaveSaveSaveSaveSaveSaveSaveSaveSaveSaveSaveSaveSaveSaveSaveSaveSaveSaveSaveSaveSaveSaveSaveSaveSaveSaveSaveSaveSaveSaveSaveSaveSaveSaveSaveSaveSaveSaveSaveSaveSaveSaveSaveSaveSaveSaveSaveSaveSaveSaveSaveSaveSaveSaveSaveSaveSaveSaveSaveSaveSaveSaveSaveSaveSaveSaveSaveSaveSaveSaveSaveSaveSaveSaveSaveSaveSaveSaveSaveSaveSaveSaveSaveSaveSaveSaveSaveSaveSaveSaveSaveSaveSave