There'll soon be a dedicated website for this project (formerly known by the working title Radical History Project). In the meantime, here what it's all about.
Protest and rebellion are as English as rainy bank holidays, cream teas and plundering foreign countries. But the great radical moments of our history are often forgotten or ignored, while many people today still struggle to find a voice. The Black Smock Band has joined forces with Daedalus Theatre Company to take a look at how our forebears fought the power and where that leaves us today. Using the songs that helped change the country as a catalyst, GERRARD WINSTANLEY'S TRUE AND RIGHTEOUS MOBILE INCITEMENT UNIT mixes performance and participation to find where all this turbulence and disorder could lead us today.
GERRARD WINSTANLEY'S TRUE AND RIGHTEOUS MOBILE INCITEMENT UNIT is a raucous folk gig, a series of community-centred political gatherings and a bold reclamation of England's radical history.
The great radical moments of our history are often forgotten or ignored, while many people today feel alienated from politics or struggle to find a voice. Even our past is threatened: the UK Government's official history for Citizenship Tests omits the Peasants Revolt, the Diggers, the Tolpuddle Martyrs…
The Black Smock Band (South London's premier gay, socialist folk band, as far as they know) have joined with Daedalus Theatre Company to tour the country with their homemade Mobile Incitement Unit in a quixotic attempt to reclaim history and idealism for the dissenters and rebels.
It's a show, a campaign and a public participation project rolled into one. It isn't party-political; it's about having big, positive ideas and finding a voice. With tea and a sing-along thrown in.
We'll be inviting people to come early to the show, have a drink and get involved with the Mobile Incitement Unit, which will house a small library, placard (and tea) making facilities, a miniature field for enacting land rights issues and many other resources. Audience members can tell us about any local history or issues they feel are relevant, make a placard or update a protest song. Their work will be included in the show and/or the project website. If they're keen, they can even develop a short speech to share in the show. The website will mean that everyone can keep sharing music, texts and ideas, and keep the conversation going after the band has left town.
The show itself is site-responsive, using texts and songs from across centuries of local and national history, as well as new material from acclaimed theatre-maker Alex Swift and the band. And, of course, from the audience.
It could end with a song and a dance. Or revolution.
Audience feedback from pilot performance at Ovalhouse:
"What a beautiful idea. I really like it all though, lovely music and the storytelling"     "fantastic idea and really important material"     "I loved singing along"     "Love the way you tie together the past and present"
Project development:
The project had a pilot performance at Ovalhouse in November 2015 (shown in the pictures here), funded by the Arts Council and crowdfunding. Further R&D is taking place in 2017, leading to a production period and previews in the autumn, also supported by Ovalhouse.
There is then a residency at Queen Mary, University of London, during which we will work with students and community members to develop the interactive, participatory aspects of the project, and to create an extended version of the show that incorporates verbatim material and original student work. This will culminate in a performance in Spring 2018.
The project will then tour various locations in England.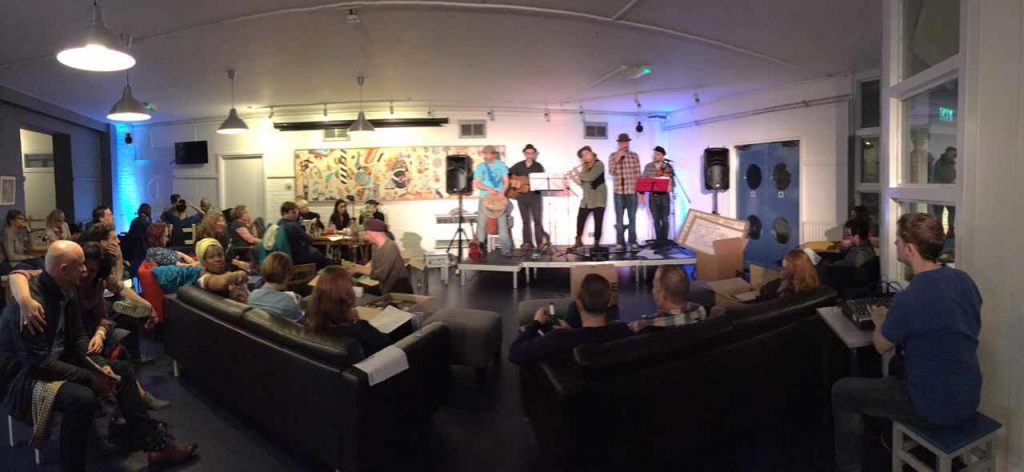 Information for venues:
The performance  is best suited to natural gathering spaces such pub back rooms and community halls, rather than conventional theatre spaces, and consequently its technical demands are simple. For larger spaces, amplification may be needed. The audience will be invited to come early to interact with the Mobile Incitement Unit, so we will need access to the space for a few hours before performances. Please contact Paul Burgess for more information.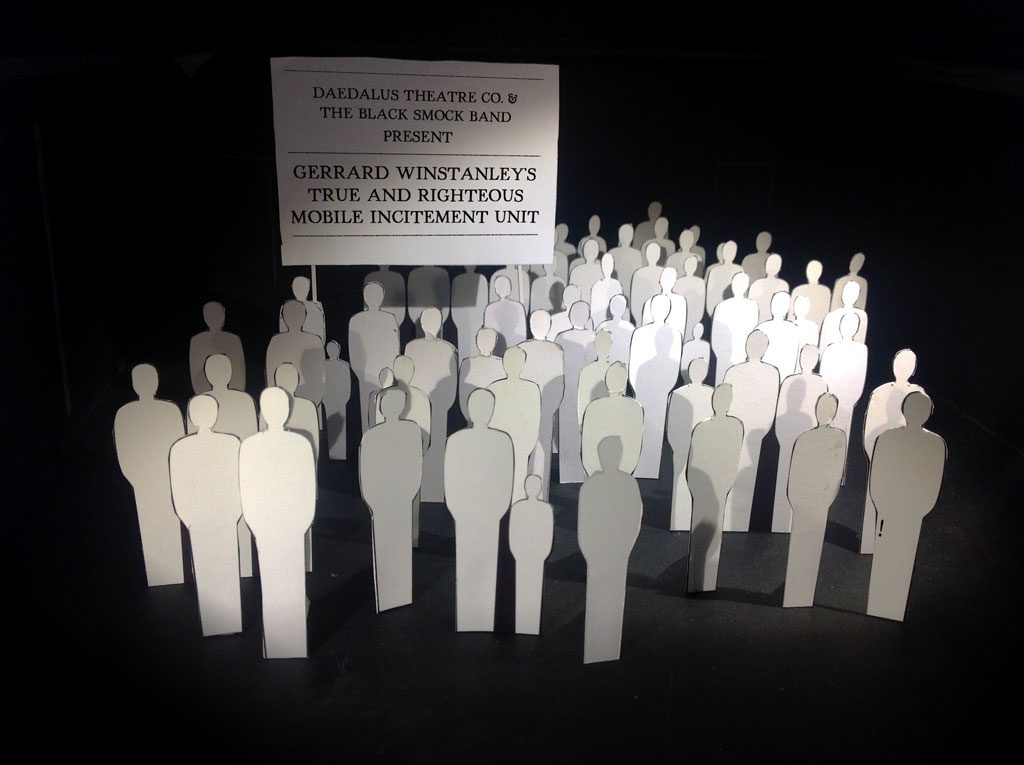 The team creating Gerrard Winstanley's True and Righteous Mobile Incitement Unit:
Andy Bannister – band member, co-designer
Matt Beattie – band member
Paul Burgess  – band member, director, co-designer
Dan Cox – band member
Sarah Jeanpierre – performer
Rhiannon Kelly – performer
Maeve O'Neill – producer
Alex Swift – writer